Facilities/Services
Exclusive Club Floor
Step into the new verve and rejuvenate at our exclusive Executive Club Floor located on the 28th floor. Services with special club assistances designed especially to serve the discerning travelers who enjoy life at the top with extensive values and personalized services that make your trip the most worthwhile and effective.
Step into the art of wellness, stay in style with comforts and a homely touch in the AETAS's limitless accommodation services. The splendid retreat of executive lounge offers the sense of refinement, a tailor-made service.

Privileges
Personalized express check-in / check-out services in the Executive Lounge.
Complimentary breakfast privately served daily from 07.00 - 10.30 hrs.
Complimentary Hi-Speed Internet in guest rooms and Executive Lounge.
Complimentary coffee, tea and soft drinks throughout the day in the Executive Lounge.
Complimentary welcome drinks upon arrival.
Late check out until 18.00 hours.
Our stylishly designed lobby combines contemporary, creativity with elements of timeless quality to develop an enduring environment. The glamour and the magnificent aspects of the lobby make it the perfect backdrop as the ultimate tranquil oasis amidst the vibrancy of Bangkok's lively social life.
Our members are on hands to provide our discerning guests with the grand master of services with extensive values and personalized serviced of genuine qualities. Enter the new era of perspectives, lifestyles and verve. It is the place where to be seen and where the hype of the Metropolis of Angels begins.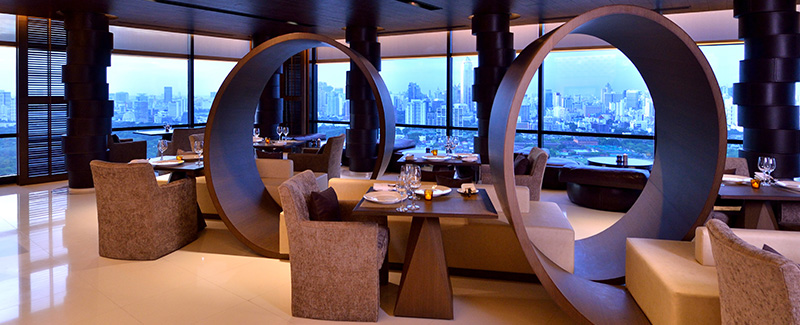 The Hourglass Restaurant
Open from 6:00 – 22:30 hrs.
The new imaginative design to explore the serene, charming and the rich artistic that encounter between the East and West that has given its timeless appeal.
It's calm and tranquil and easy to spend hours wandering and tasting around the new menus and feel the mood enhancement from the design. Each corner and area brings cheerful emotions and bright visualization. It's filled with charm character and no better way to match up than to explore its landmark and authentic fusion styles and wide selection of desserts.